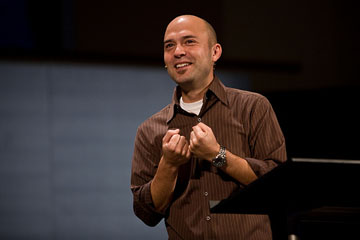 "God does eternal good to our souls."
That was one of
Joshua Harris'
themes in last Sunday's Message,
God's Blessings in Salvation
. If you were serving in Discovery Land or just weren't able to attend, please
listen
to Josh's exhortation to our church to be grateful for the unseen but very real benefits of God's saving grace.
What else happened this Sunday?
Singing

- John David's band led

Announcements

by Mark Mitchell (who was very sick, but you couldn't tell)
We welcomed

Jamie Leach

to the pastoral team.
Josh's sermon

Communion

, led by Mark Mitchell

Singing

- John David's crew came back for two more songs

I have very few notes from this Sunday. In fact, I have so few notes that I'm not even going to give a blow-by-blow account. All the volunteers did a wonderful job. Thanks, folks.
Instead, I just want to mention one big idea for each team that will serve as a reminder of some areas where we can still grow. Then, I need some of you to
jump in and answer questions
related to those topics.
Comment away.
Sound - Creepiness
We have a creepiness problem. It's a sound team problem and a music team problem. Everyone creeps upstage and offstage. However, we need our musicians downstage and centerstage. The sound crews can help this by being very careful to make sure that we set up music stands and equipment so that
the musician or singer
- not the music stand - is standing in the place indicated on the stage diagram. We are still struggling with this regularly and across all the teams.
Your turn: why do you think this a problem?
Lighting - Intelligent Design
Our lighting folks can grow in
intelligent design
. What does this look like? When deciding what light to use on a particular subject, the lighting tech
stands on stage and chooses a light
that is both unused and at the appropriate angle. He or she then aims that light at the subject. What does a less-thinking version of lighting design look like? When deciding what light to use on a particular subject, the lighting tech
runs his finger along the bump buttons
on the board until the floor lights up in the general area of the subject.
Your turn: why is this design difference important?
Video - Self-Focus
Sometimes our camera operators can simply be too focused on others. Okay, I don't mean that in a spiritual sense. They need to
pull their focus toward themselves
more. This is especially true when someone comes up on stage during or immediately after singing. Regularly, a pastor comes up to speak and the background is in sharp focus but the pastor is slightly soft. Remember, camera ops, to be intentional about drawing that focus toward you.
The foreground should be in focus and the background out of focus.
Your turn: how does incorrect focus affect you when you are in the congregation?
Lyrics - Are You Leading?
We give the title of worship leader to a guy with a microphone on stage. But he's not the only leader in the process. Equally directive in the music leadership process is the guy or gal behind the lyrics computer. What do you think the congregation is going to sing when the slide is different than what the "worship leader" sings? Most likely, they will sing what they see not what they hear. With that in mind, it is especially important for lyrics operators to practice
new songs
with the band and make the extra effort to anticipate the worship leader's next move and get those words up early.
Your turn: what's it like learning a new song at Covenant Life Church?
Thanks for participating, friends!