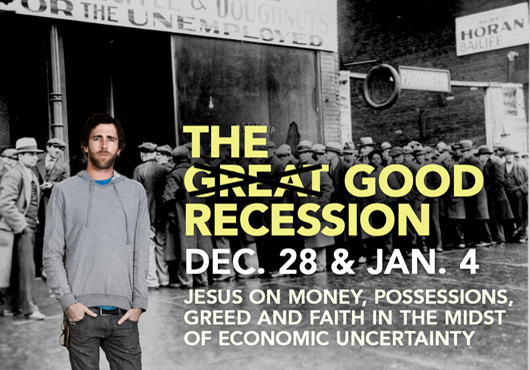 This weekend was the first of two Sundays in the series,
The Good Recession
. Here's what happened:
General Comments
Don't forget our mandatory meetings coming up in January. There are four meetings: two for the sound, lighting, and video teams; and two for the sermon audio team. Each team member (individuals, not families) must attend one of his or her team's two meetings. 34 of you have yet to sign up. You'll be getting an email soon to give you one last chance.
Also, because Sunday was between Christmas and New Years, a number of people were missing while traveling for the holidays. For the most part, all the team members did find replacements, but the situation prompts these reminders:
Every role on the team is important.

No role is optional. In both the auditorium and the events center, we definitely noticed those of you who were missing. Please know that your contribution is significant and not easily distributed to the people around you. If you were there on Sunday taking up the extra slack, thanks for your effort.
Please remember that, by participating on this team, you have taken full responsibility to

find someone to replace you

when you are gone. I had several team members come up to me early in December and notify me that they were going to be gone. They followed that up by saying, well, nothing. I had to remind them to find a replacement. Thankfully, they all responded by following through.

Please remember that, by participating on this team, you have taken

full responsibility

to find someone to replace you when you are gone. We had several people contact Latricia, after sending one email, saying that they were not able to find a replacement. When asked if they had called around, they had not. Please do call everyone if they don't at first reply to your email.

Please reply immediately

when someone emails you about substituting for them. A "no" is more helpful than no reply. If you do need to wait to consult your calendar or family, please reply immediately with a "maybe, but I'll need to get back to you." In that case, the person looking for the sub won't hesitate to follow up with you.
Thanks for making this extra effort to keep the team running smoothly.
Sound
The Cowan family gets props as the hardest working sound crew in town. Not only did they handle last Sunday, but they were also the majority of the sound crew for the Christmas Eve services earlier in the week. Thanks to you four, Nate, and Gavin for making such a busy time such a joy.
The soundcheck on Saturday seemed to get off to a late start, but that's probably because we had an
undisclosed amount of percussion
scheduled for the morning, and Bob let us know after he came in that Jordan would also be playing a small kit.
Was there anything else that delayed the kickoff of soundcheck and rehearsal?
I want to make sure we are maximizing rehearsal time for the musicians.
We had some holdover rentals from the Christmas Eve production:
4
DPA 4061
lavalier microphones for the string quartet
. Honestly, I was not impressed with the results either at Christmas Eve or this Sunday. It seems like we can still get more gain before feedback with a well-placed large diaphragm condenser on a boom stand.
Jim, what was your final verdict on them?
I had one mix critique, which is probably as much a critique of the instrumentation as the mix:
the drum-percussion combo felt lonely
. I really wanted to hear a bass guitar. I've become convinced that a kick drum without a bass guitar needs to be played and mixed very differently than one that has its partner with it. Neither the grand piano nor the cello can make up for the lack of tone in the low-end when it's just a kick drum down there. There was something just not quite right without the bass.
Lighting
Lighting on Sunday was pretty much an extension of the Christmas Eve lighting setup. Everything went fine except one
major planning failure on my part
. The Uganda missions trip team lighting was not wide enough for the whole team. I didn't realize they were going to invite the entire team and all the pastors up for both services. Next time I'll remember to follow up on that more fully.
Video
The
pastorcam
is here, and it is already making a difference. Hung over the center screen, this new remote camera looks down on the stage and the front row of pastors, allowing the video team to easily see when there is a person getting ready to come on stage or share from the ministry mic. On one occasion, Tony, at the house director position, was able to see Josh coming up before anyone prompted us via radio. Thanks, Tony, for keeping your eyes on the pastorcam and for letting us all know of the spontaneous change.
We've had some consistent issues for the last month or so with
shading adjustments after the cameras are live
. As a reminder to all Camera Directors and Assistant Directors, please use the waveform monitors to get the shading on the cameras right before taking those shots to the screen. Lighter skin tones should register at around 80% and darker skin tones should register around 70% on the waveform monitors. Remember, don't let the backdrop or a light shirt fool you. Video Producers and House Directors can help make sure this happens, too, by not letting underexposed shots go live.
Sometimes I ask for shading changes when I see a camera shot go live. My hope in that case is that we can get another shot shaded correctly, switch to that new shot, and then fix the one that's live. Please don't make changes live unless absolutely necessary.
My lack of planning on the Uganda prayer time hurt the video, too. The second service was better with Mark stage right instead of stage left. Even so, it was still difficult because Mark wasn't told which way to stand and which way to look. I'll try to do better on this next time.
I think that's it for my comments.
What do you want to contribute to the discussion?